Before the Assembly
[ Welcome from LWF General Secretary ] [ Welcome from LWF President ] [ Regional Pre-Assembly Consultations ] [ Women's Pre-Assembly Gathering ] [ Pre-Assembly Youth Conference ] [ Visitation Program ] [ Study Book ] [ Six Year Report ]
Regional Pre-Assembly Consultations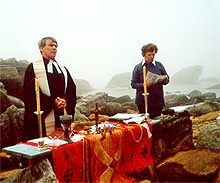 Open air worship on the Pacific, Vladivostock, Russia
An LWF tradition, Pre-Assembly Consultations assist member churches in preparing delegates for full and active participation in the Assembly. They provide an opportunity for church leaders—men, women and youth—in the LWF geographical regions to assemble and discuss current situations in light of the Assembly theme and issues.
There have been five regional Pre-Assembly Consultations: Africa, Asia, Europe, Latin America and the Caribbean, and North America; a Women's consultation; and a global Youth conference. Meetings for women, and for youth, were also held during the regional consultations.
The central purpose of the regional consultations was to prepare the delegates for active and meaningful participation in the Assembly. The delegates considered, from the viewpoint of their own region, the areas to be discussed in the ten village groups at the Assembly. Each region also worked on preparing a Bible study. In addition, the participants received detailed information on the Rules of Procedure, logistics, practical matters and communication.
The regional consultations drew up a slate of Council member nominations according to established numbers for each region, and a determined rotation procedure. Each region also discussed crucial issues related to its situation, future witness and work.
[Site Map] [LWF Assembly Home] [Links] [LWF Home]