About the Lutheran World Federation
The Lutheran World Federation (LWF) is a global communion of Christian churches in the Lutheran tradition. Founded in 1947, the LWF now has 136 member churches in 76 countries representing 61.7 million of the world's 65.4 million Lutherans.
The location of the LWF Secretariat in the Ecumenical Center in Geneva, Switzerland facilitates close cooperation with the World Council of Churches (WCC), other Christian world communions as well as international secular organizations.
The LWF acts on behalf of its member churches in areas of common interest such as ecumenical relations, theology, humanitarian assistance, international affairs and human rights, communication, and mission and development work.
Ecumenical Affairs
The LWF is committed to the search for Christian unity. An important part of this involvement is the co-sponsoring over the years of bilateral dialogues on the global level-with the Anglican Communion, Orthodox churches, Roman Catholic Church, World Alliance of Reformed Churches and World Methodist Council. Ecumenical conversations have been held with the Baptist World Alliance and Seventh-day Adventists. The LWF also seeks to further ecumenical involvement of its member churches on national and regional levels. There is close cooperation with the Lutheran Foundation for Interconfessional Research in Strasbourg, France.
Theology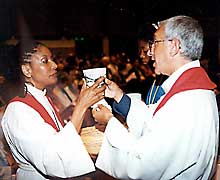 The Department for Theology and Studies (DTS) probes basic theological, ecclesial and ethical questions that confront the churches of the Lutheran communion as they carry out ministry and mission in today's pluralistic contexts. Through study desks focused on theology and the church, socio-ethical issues, worship and congregational life, and relations with people of other faiths, the department carries out study processes and produces publications intended to assist and challenge churches, contribute to ecumenical discussions, and network with those pursuing theological work in other venues.
Humanitarian Assistance
The Department for World Service (DWS) serves as the LWF's international relief, rehabilitation and development agency. DWS maintains 24 service programs and emergency operations in more than 31 countries with over 50 international staff and 5,500 local staff. Guided by its Strategic Plan, DWS is meeting the needs of people irrespective of race, sex, creed, nationality or political conviction. DWS works to foster awareness, advocacy, solidarity and action at local, national and international levels on a wide range of human rights, humanitarian and development issues. DWS responds to emergencies in collaboration with Action by Churches Together (ACT), a worldwide alliance of churches and agencies. In 2001, DWS allocated more than USD 80 million in program and emergency support in addition to donated commodities and material aid.
International Affairs & Human Rights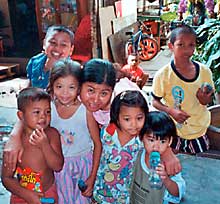 The rights of the child?
In the slums, Bangkok.
Lutheran churches see the protection of human rights as a basic Christian concern. The LWF monitors human rights abuses around the world closely and, in consultation with its member churches, makes representation in relation to crucial issues. The Federation also supports the human rights ministries of member churches with training, financial and other support. The LWF peace fund has enabled progress by encouraging peace efforts in such areas as Central America, the Middle East and places of actual or potential conflict in Africa. Pastoral delegations, staff visits and consultations contribute to a global ecumenical ministry for justice and peace.
Mission & Development
The Department for Mission and Development (DMD) works with the member churches as they endeavor to create, maintain and develop ministries that integrate proclamation, service and advocacy for justice. Through LWF sponsorship, church leaders and workers, clergy and lay, are trained for witness and ministry. About 450 ongoing mission, communication and development projects and programs are carried out annually for the benefit of churches and communities. Of special focus is the role of women, and youth, in church and society, as well as Christian and theological education and communication capacity. Special attention is given to issues of gender and strengthening of mission understanding and practice worldwide.
Communication
The LWF provides a news and information service, Lutheran World Information, available via e-mail, posted on the news pages of the LWF World Wide Web site: www.lutheranworld.org and in printed format, in English and German. Other activities include overall administration of the Web site, electronic and traditional book publishing, a directory, magazines and promotional material as well as audio-visual, editing, and translation and interpretation services.
Staff
LWF staff members in Geneva number 85 from 20 different countries. There are also over 50 expatriate staff from 24 nations who work alongside 5,500 local staff in DWS field programs.
Budget
The LWF administration handles more than USD 100 million annually of which USD 95 million are allotted to projects, programs and emergencies in 70 countries. The LWF has recently established a foundation for long-term financial support: The LWF Foundation - Endowment Fund.
Institutional Structure
The LWF's highest decision-making body is an Assembly, normally held every six years. Representatives from each member church participate. Between Assemblies, the LWF is governed by a 48-member Council, which meets annually, and by its Executive Committee. The LWF Tenth Assembly took place in Winnipeg, Canada in July 2003, hosted by the Evangelical Lutheran Church in Canada.
[Site Map] [LWF Assembly Home] [Links] [LWF Home]