At the Assembly - Worship
[ Back to Worship ]
[ Interview with Assembly Worship Coordinator ] [ Bishop Schultz On Local Preparations ] [ Daily Eucharistic Celebrations ]

Worship is About the Community
Interview with Assembly Worship Coordinator Rev. Dr Päivi Jussila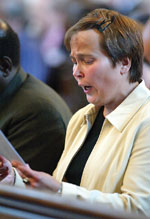 Rev. Dr Päivi Jussila
Why is worship life so important at the Assembly?
I could give different kinds of responses to that question. I hope that all those who participate in the Assembly could find their own answers to that question. But if I think of general classical definitions of worship as the work of the people, I would like to emphasize that worship is about the community. It is about us, about what we bring to an occasion of worship. At the same time, if we emphasize too much this classical definition of worship as people's work, we might forget that worship also at its best can be rest for people. I am hoping that worship life at the Assembly could also be a place for rest in the midst of hectic meetings. The International Worship Planning Group has tried to keep the worship services and their orders very simple, being aware of the fact that people speak different languages. We will also try to use expressions that are transparent in meaning, that breathe and give space for different kinds of reflections. Therefore not everything is defined or explained. The Assembly worship offers space for individual creativity and meditation.
What forms of worship will there be at the Assembly?
We will reflect and meditate on the Assembly theme, "For the Healing of the World," and thus on what healing, health and wholeness mean in the context of worship. We start from very old definitions, originating from the early Church, according to which the Eucharist is medicine of immortality. It is possible to say that one of the main healing services within Lutheranism is the eucharistic service. We are going to have daily morning Eucharist, the order of which has been prepared by different regions. Besides that, we will have daily mid-day prayers with a simple meditative order, and then evening prayers with a similar structure. In addition, there will be the opening and closing Eucharist, and the big ecumenical Sunday celebration outdoors.
Were there any issues with which the International Worship Planning Group was struggling?
We have been struggling to some extent with the concept of healing. We are still challenged to find creative language to express healing. We have come with some solutions; some concepts that relate very well to healing such as peace, wholeness, transformation, reconciliation and love. These perceptions will also be found in the Assembly worship services.
Will there be something unique in the worship life?
Perhaps, one of the unique elements is the way in which we use meditation and silence within these different worship services. We are used to wordy worship services but this time, we try to focus on what is essential, vital and what needs to be said, and what can be left open so that people can be with their own reflections and prayers.
[Site Map] [LWF Assembly Home] [Links] [LWF Home]